---
---
Having an amazing lunch box could make the entire lunch experience so much better for your kids and for you!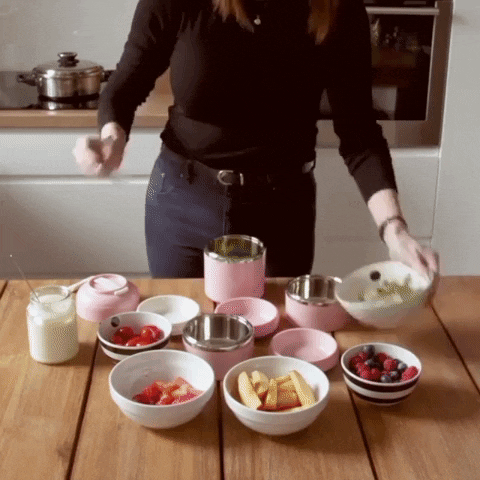 ✔️ Leakproof Insulated Lunchbox
✔️ Worldwide FREE Shipping With Tracking Number 
✔️ Easy 30 Day Returns  
✔️ Get One for Yourself, And One for Your Loved Ones And Save More
Enjoying delicious meals on the go has never been so easy thanks to the Layered thermal Lunchbox. A unique and innovative cute lunchbox that makes meal prep easier than ever! Each layer can contain different types of foods, and you'll have more than enough space to fit all your meals and enjoy them on the go.
need a lunchbox for work?  School for kids?  Picnic at the park? Going camping? We got you covered!
Save money on expensive restaurants at lunch break, and eat more whole and healthier meals thanks to this cute lunchbox, Highly recommended lunchbox for adults.
✔ LEAK PROOF Lunch box with compartments- Carry all your liquids, like sauce or soup, without worrying about making a mess. Each layer has a silicone joint and locking system that creates an airtight seal. 
✔ Insulated food container
✔ PORTABLE & FLEXIBLE - Each layer can be easily removed to suit your needs for the day. Simply add or remove layers as you wish. You can leave a compartment (or two) at home and make your FoodyBox smaller for those not-so-hungry days.
This product is not sold in stores !!
 Capacity:
Height:
2 TIERS - 1000ml
2 TIER - 23.5cm / 9.25''
3 TIERS - 1300ml

3 TIER - 31cm / 12.2''

 
Shipping:
All Shipments are trackable through USPS tracking (or your local mail carrier).

Most orders arrive within 7-25 business days.
Please note that Shipments could be delayed 7 to 29 days due to the COVID-19 protocols. Stay safe
OUR GUARANTEE:
If you have any problems with your order or aren't satisfied with your product, just let us know within 60 days and we'll get you your money back!

Shopping online should be fun and easy and we want you to love your experience with ZoneGears!